IACEE Pulse: April 2023
Letter from the President
Dear IACEE Colleagues:

It is Spring in the northern hemisphere and Autumn in its southern counterpart. What a lovely time to enjoy some good news from IACEE.
I am pleased to inform you about the upcoming IACEE 2023 Symposium in collaboration with Duke University Learning Innovation to be held in Washington, DC on the 15th and 16th of June, 2023 at the Duke in DC facility, in the heart of the USA's capital. I encourage you to look at the detailed announcement, especially at the program developed by IACEE First Vice President Dr. Yakut Gazi, and request you to consider joining us in DC. Because the space is very limited, an early registration is requested.
The Annual Council meeting of IACEE will be held in the same facility – Duke in DC – on the 14th and 15th of June, 2023, starting at 9:00 am on the 14th and ending at 2:30 p.m. on the 15th. We plan to discuss our progress and plan for the next year on: Programs, People, Processes and Partnerships.
Many of you wanted to know about our strategic and operational priorities, and the initiatives that we are taking for the members and organizations. So, here is a diagram which outlines those.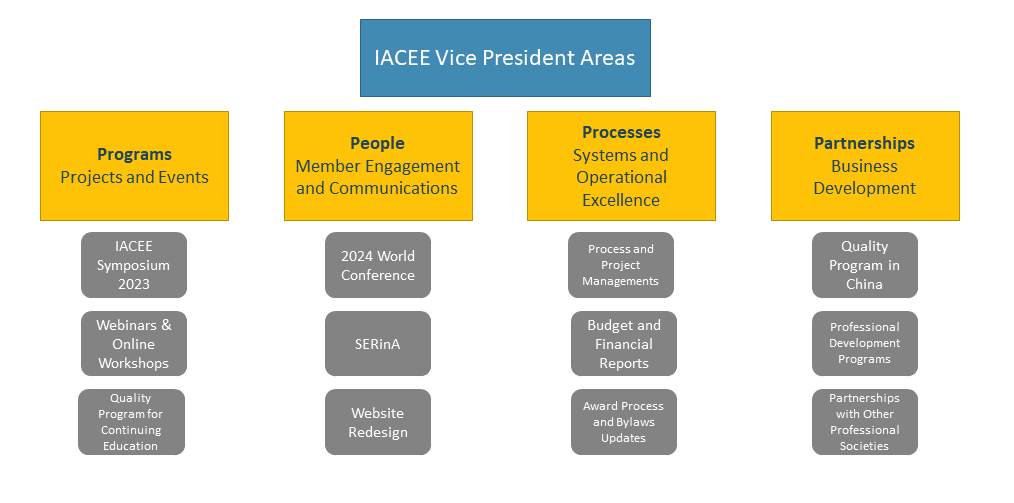 After the Council meeting in June, we will update you on the progress for each initiative and seek your recommendations and involvement.
Finally, I encourage you to read the following two articles in this issue:
The article on the state of continuing education in Europe by our esteemed European colleagues who live and breathe that every day and who have discussed the breadth and diversity of the programs.
The article on organization of capacity building in engineering education as examined in seven European institutions (in Belgium, Finland, France, Germany, Hungary, Sweden, UK) and Australia.
Sincerely:
Soma

Soma Chakrabarti, PhD
President, IACEE
soma.chakrabarti@iacee.org
GLOBAL TRENDS IN CEE
A Panoramic View of the State of Continuing Engineering in Europe
Ragna Ann Berge, Norwegian University of Science and Technology, Norway
Paper at IACEE World Conference, Buffalo, NY, June 2022

The paper summarizes the experiences of five European countries regarding CEE; The Netherlands, Denmark, Finland, Hungary, and Norway. We often see Europe as one; the paper shows similarities and significant differences between the countries. However, we find the same challenges regarding financing and the lack of faculty resources/ capacity.
The European countries have national education strategies and policies. Although, those who are members of the European Union have some mutual policies and shared funding opportunities, e.g., the Erasmus+ Program for Education, which to some extent affects and guides research and development within CEE. But how CEE activities are organized and practiced is unique for the individual European countries, just as there may be national variances among education institutions.

Governments need to support the ongoing and ever-increasing skills update of people with higher education in all European countries. This is seen in various national and cross-European initiatives within the CEE area, such as micro-credentials; learnings communities; a new European education European Engineer, the Nordic Five Tech initiative; FITech, and many more but all with either national or European funding. But furthermore, local initiatives such as internal training of academic staff, training trainers, and hosting large forums to discuss engineering education. Such activities have also initiated more collaboration across faculties which is often a hurdle that universities operate in silos and have great difficulty working interdisciplinary and interfaculty.

At the institutional level, universities also experience challenges such as CEE modules requiring new and different designs, calculating costs of CEE, and academic staff is not trained to organize and facilitate CEE learning activities. Furthermore, the university incentive systems most often do not support these activities.

Certain European countries have renewed their national strategies to advance the possibilities for engineers to keep up with the needed development of competencies. However, it is an ongoing debate that universities must show action and take that risk. Still, they must have the finances and the capacity.

If you want to read the whole paper, you find it in the proceedings from the conference on page 73.

Thanks to Bente Nørgaard, Aalborg University, Denmark, who produced much of the text used here. Other contributors to the paper were: Ellen Sjoer, The Hague University of Applied Sciences, The Netherlands; Katriina Schrey-Niemenmaa, Academic Engineers and Architect, Finland; Kirsti Miettinen, Rastor-institute, Finland; Aniko Kalman, Budapest University of Technology and Sciences, Hungary; and, Ragna Ann Berge, Norwegian University of Science and Technology, Norway.

NEWS FROM ACADEMIA

International Practice of Capacity Building in Engineering Education: A Comparative Case Study
Aniko Kalman, Budapest University of Technology and Sciences, Hungary
Paper at SEFI Conference, Barcelona, Spain, September 2022
Capacity building is a cornerstone for having well-prepared and effective teaching staff in engineering education. However, despite the importance of capacity building in engineering education, there is relatively little research on this topic. In this paper, we raised three research questions to address this gap:

RQ1 What are the incentives for permanent academic staff to engage in pedagogical training?
RQ2 How is this pedagogical training organized?
RQ3 At what point in their careers, and how frequently, do permanent academic staff engage in pedagogical training?

Based on institutional education poll-organized practices, we examine how capacity building is organized in seven European institutions (in Belgium, Finland, France, Germany, Hungary, Sweden, UK) and Australia. We compare teaching staff preparation, initial training, and continuing capacity-building activities throughout their careers.

To do this, we applied a qualitative approach called an exploratory, comparative one. First, we collected the data through (1) a structured questionnaire answered by the members of the SEFI SIG on Capacity building and (2) written notes produced during an international workshop on capacity building at the 2021 SEFI conference. We then conducted a comparative case study, exploring similarities and differences between incentives for permanent academic staff to engage in capacity building, how it is organized, and at what point staff engage in it in their careers.

The study's findings are presented in the three sub-sections; incentives, organization, and participation, which are directly related to the three research questions. Our findings indicate diverse approaches, rules and practices, and different obstacles and challenges for engineering education. Policymakers can use the outcomes of our study to inform capacity-building practices and engineering education in Higher Education Institutions. Our questionnaire provides a tool for monitoring and reporting practices throughout the sector. The limitation of the study is that interpreting the results has been challenging due to the complexity and considerable variety of institutional capacity-building organizations. We call for further explanatory mixed methods study, including more institutions and an in-depth investigation of incentives and motivation related to participation in capacity building.

[SEFI 2022 Proceedings, Page 379]

Thanks to the contributors to the paper: Greet Langie, KU Leuven, LESEC, Faculty of Engineering Technology, ETHER, Belgium; Anne Gardner, University of Technology Sydney, Australia; Jennifer Griffiths, University College London, United Kingdom; Johanna Lönngren, Umeå University, Sweden; Madeline Ruth-Polmear, Vrije Universiteit Brussels, Belgium; and Anikó Kálmán, Budapest University of Technology and Sciences, Hungary.
June Symposium 2023


Critical Conversations: A Bold Educational Agenda for Lifetime Engineering Education
IACEE June 2023 Symposium, in collaboration with Duke University
Yakut Gazi, Vice Provost For Learning Innovation and Digital Education, Duke University; First Vice President, IACEE


As the leading international organization for lifetime engineering education, the International Association for Continuing Engineering Education (IACEE) continues to hold conversations of critical importance with global leaders in our domain. In June 2023, we will gather to engage in discussions on matters that keep us at the edge of our seats, and ask:
What are the changes that will continue to shake our higher education institutions?
Are we shouldering our responsibility as higher education institutions when it comes to climate change and sustainability, or are we asleep at wheel?
What are 21st century learners asking for from us?
What systems are missing to build a seamless lifetime learning experience for learners to swirl in and out of our institutions?
What role do pre-college programs play in engineering education in a post-Covid world?
What is our bold educational agenda for lifetime engineering education now that we have left almost one quarter of the 21st century behind?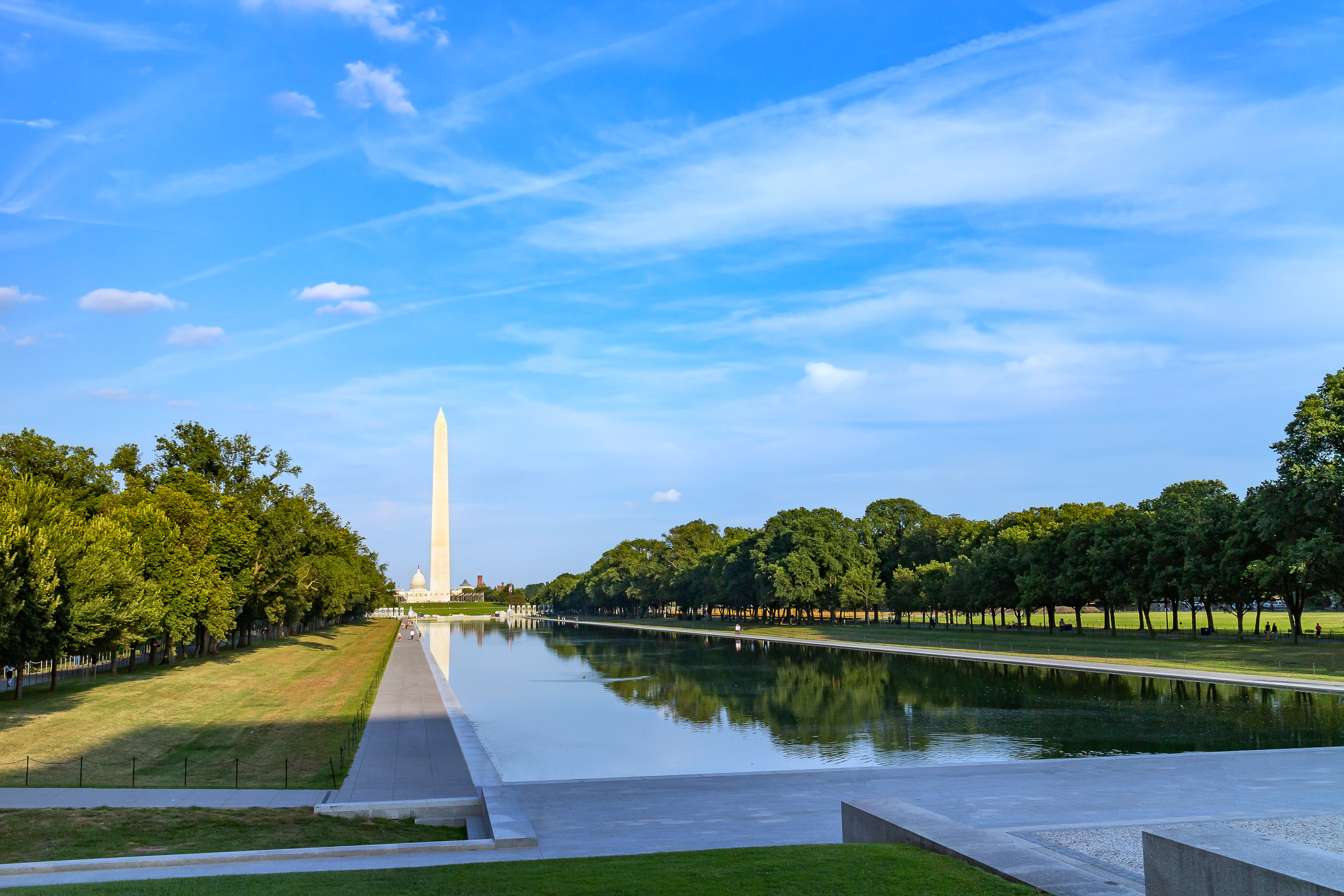 The Skeleton program and confirmed speakers are available below. Join us in DC this summer.

Critical Conversations: A Bold Educational Agenda for Lifetime Engineering Education
IACEE June 2023 Symposium Draft Agenda
Thursday, June 15th
4 - 4:15 pm
Welcome and Opening Comment: Yakut Gazi, IACEE First VP and Host
4:15 - 5:15 pm
Keynote Panel: Key Drivers for Change in Higher Education
5:15 - 6:30 pm
Reception
Friday, June 16th
9-10 am
Panel: Global Perspectives on STEM Pipeline in Engineering Education

10-11 am
Panel: Cross-Sector Collaboration and Engagement for Sustainability

11 - 11:20 am
Break

11:20am - 12:30 pm
Panel: Credential Innovation in Engineering Education

12:30 - 1:30 pm
Lunch

1:30 - 2:30 pm
Panel: Infrastructure and Learning Ecosystems in Lifetime

2:30 - 3:00 pm
Debrief and Closing Comments: Soma Chakrabarti, IACEE President

Confirmed Speakers
Bryan Alexander, Senior Scholar, Georgetown University, USA
Nelson Baker, Dean of Professional Education, Georgia Institute of Technology, USA
Ed Borbely, Associate Dean, Interdisciplinary Professional Programs, College of Engineering, University of Wisconsin, USA
Patricia Caratozzolo, Professor Researcher, Tecnologico de Monterrey, Mexico
Soma Chakrabarti, Lead, Education Outreach Development, Office of the Chief Technology Officer, Ansys, USA
Anita Chawla, Managing Director, Partner Strategy and Success, North America, Engageli, USA
Alex Dehgan, Chief Executive Officer and Co-Founder, Conservation X Labs and Professor of the Practice of Sustainability and Global Futures Fellow, College of Global Futures, Arizona State University, USA
Myk Garn, Assoc. Dean for Learning Systems, Georgia Tech Professional Education, USA
Yakut Gazi, Vice Provost for Learning Innovation and Digital Education, Duke University, USA
Amy Heitzman, Deputy CEO & Chief Learning Officer at University Professional and Continuing Education Association (UPCEA), USA
Shubha Kashyap, Director, Student Affairs and Faculty Relations, College of Engineering, University of Michigan, USA
Khusro Kidwai, Associate Dean for Lifelong Learning, Whiting School of Engineering, Johns Hopkins University, USA
Chris LaBelle, Executive Director Online & Professional Education (Nexus), University of Michigan, USA
Magda Lagoudas, Executive Director, Industry & Nonprofit Partnerships, Texas A&M University, USA
Bente Norgard, Associate Professor, Aalborg University, Denmark
Vishal Patel, President of Global Markets, Duke Corporate Education, USA
Robert Prakash, Chief Technology Officer and Managing Director of Product and Finance, Stanford Online, USA
Katriina Schrey-Niemenmaa, Academic Engineers and Architects in Finland-TEK Senior Advisor, HRPlus OY, Finland
Ellen Sjoer, Professor Sustainable Talent Development at The Hague University of Applied Sciences (De Haagse Hogeschool), Delft University of Technology (TU Delft), The Netherlands
Lisa Stephens, Assistant Dean, SEAS Online, University at Buffalo School of Engineering and Applied Sciences, USA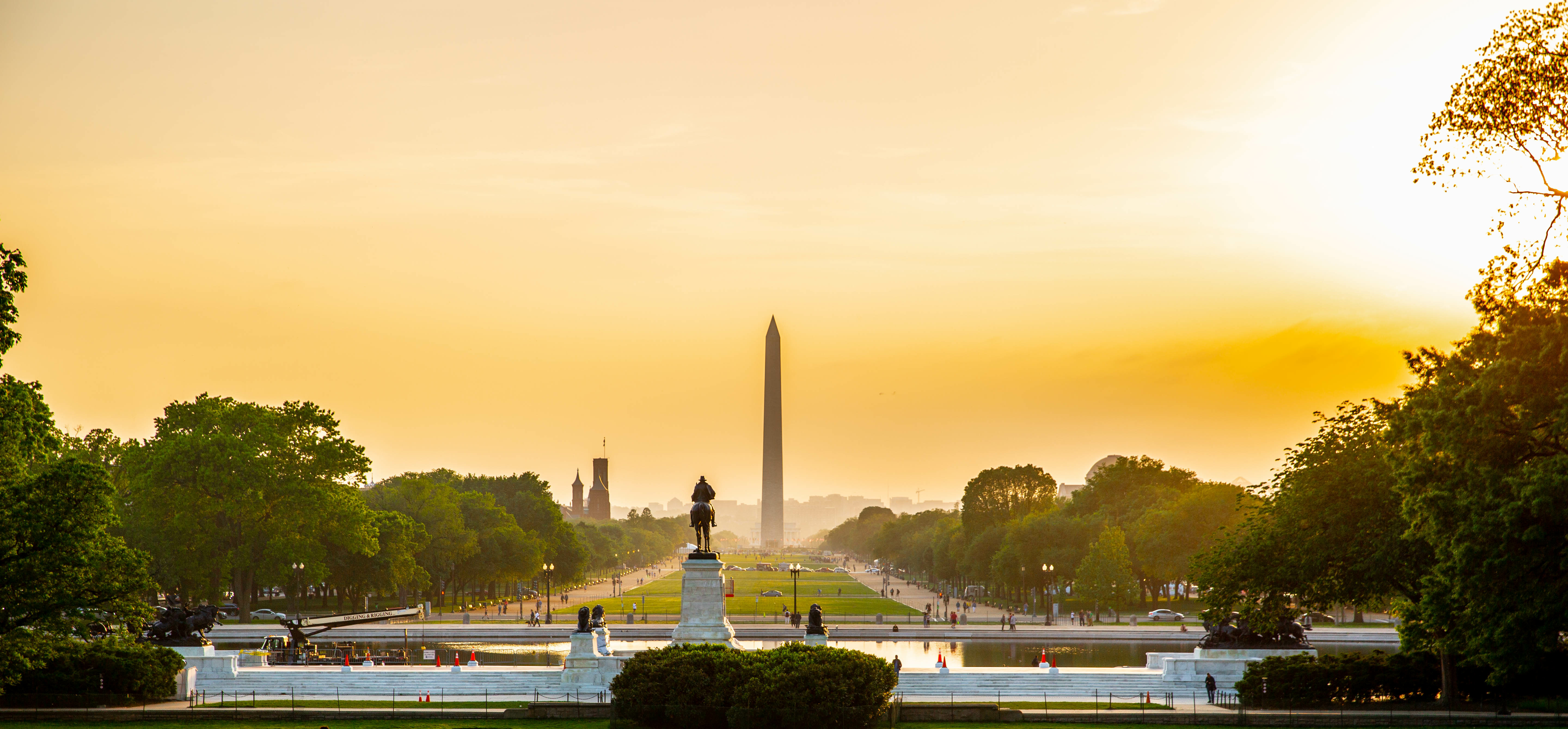 WEEF-GEDC 2023
This year WEEF-GEDC will be held in Tecnologico de Monterrey, Monterrey, Mexico, from 23-27 October 2023. This grand event is an excellent forum that brings together the engineering world and connects stakeholders at all different levels. The conference organizing committee encourages authors to consider the WEEF-GEDC 2023 theme "Convergence for a Better World: A Call to Action" with their submissions. Submit your valuable contributions before June 12th and join us at WEEF-GEDC 2023. You can find the full conference details on the conference website.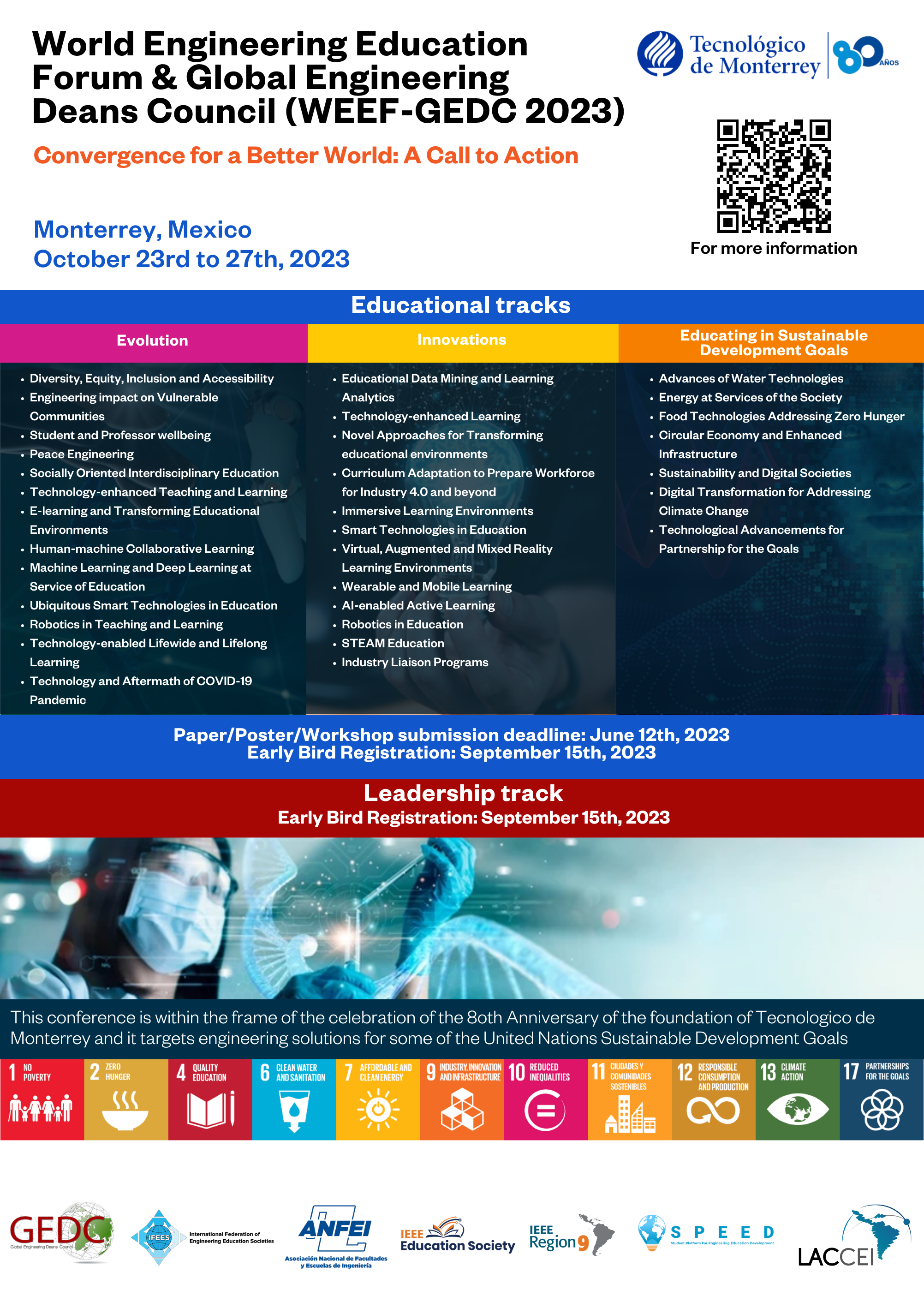 ---
Newsfeed contact: Camille Howard, Georgia Institute of Technology, USA