Welcome Message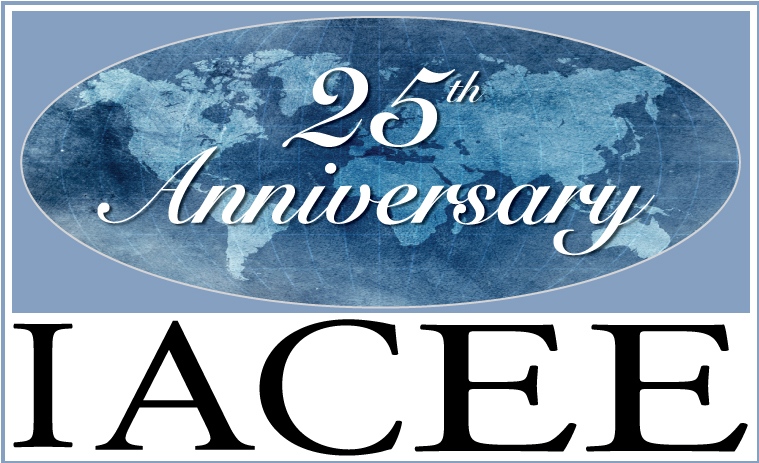 NEWS: IACEE at WEEF 2015
IACEE will host a daylong track of three panels, a membership meeting and a workshop at the World Engineering Education Forum (WEEF) in Florence, Italy, to be held on 20-24 September 2015. IACEE is one of the 12 participating organizations of WEEF 2015 that focuses on and addresses the general theme of resilience to varying aspects and scales, and will explore its applicability and value in engineering education and in engineering overall.

WHO WE ARE:
The International Association for Continuing Engineering Education (IACEE) is a non-profit, non-governmental, global organization committed to advancing and supporting the continuing education and professional development of engineers, scientists and technology managers. In many countries this post-graduate education contributes significantly to a vibrant economy. For the past 25 years, IACEE has been an advocate of lifelong learning in engineering.
WHAT WE DO:
We provide a forum for organizations and providers of continuing engineering education to share lessons learned and to address emerging issues through exchange of ideas on LinkedIn, in Newsfeed and Newsletters, at regional conferences, but most importantly at a biennial conference. The next biennial conference will be held in Porto, Portugal May 17-20, 2016, so plan on joining us to share your thoughts on the lifelong learning of engineers, scientists, technologist and Continuing Professional Development (CPD) leaders!
WHY GET INVOLVED:
Besides being engaged in a global conversation on CEE and thus shaping the future of of organizational learning, both institutional and individual IACEE members can utilize a number of resources that IACEE offers.
IACEE Quality Program in Continuing Education

: The IACEE has created a world class continuing professional development organizational quality improvement and benchmarking tool which helps any organization delivering engineering education to evaluate themselves, their offerings and where they can improve. The database contains comparative data from hundreds of similar organizations delivering continuing education. This is a FREE web-based tool, available to all institutional members.

CEE Manager Training

: Through a series to face-to-face and online workshops, new and seasoned continuing education managers are trained in global program development, management and marketing. For individual members, this is a perfect opportunity for professional development.

Special Interest Groups (SIGs)

: Four SIGS focus on four aspects of CEE: innovation, digital learning, partnerships and marketing. The communities engage in discussing the emergin

g trends and share best practices thus also bringing unique networking opportunity to invidual members.
News
Calendar
Complimentary Webina
10/22/15
IACEE 2016


The Strategic University-Industry Collaboration – The Value of the Knowledge Broker in Developing the Strategic Collaboration





Organized by IACEE 15th World Conference on Continuing Engineering Education



Presented by Lars Frølund (Aarhus University, Denmark)



Thursday, 22 October 2015, 17:00 hour Porto time (12:00 EDT USA, 18:00 Central Europe)



Register here
more info...

The Eighth International Conference on Mobile, Hybrid, and On-line Learning
04/24/16 - 04/28/16
more info...

15th IACEE World Conference on Continuing Engineering Education
05/17/16 - 05/20/16
Alfredo Soeiro


The 15th IACEE World Conference on Continuing Engineering Education is scheduled for 17-20 May 2016 in Porto, Portugal. Our host for this conference will be the University of Porto. Prof. Alfredo A.V. Soeiro, IACEE Past President (2001-2004) and a long-time Council member, will serve as General Chair of the 2016 World Conference. Stay tuned for more information.


more info...